Germaine Hainard-Roten
2 December 1902, Nuremberg – 29 November 1990, Bernex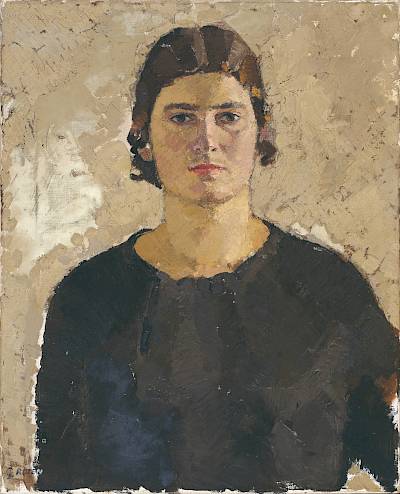 Germaine Hainard-Roten lived in Nuremberg until 1917, where her father was a teacher. She attended school at the convent in Sion and then went to Geneva to study jewellery and figure drawing at the École des arts industriels. She also attended evening classes at the École des Beaux-Arts in Geneva (student of Philippe Hainard), where she met Robert Hainard. From 1925 to 1929 she worked as an enameller at the Zenith watch factory in Le Locle.
In 1929 she married Robert Hainard. Together they shared a passion for observing the wilderness. From 1930 onwards, she exhibited her paintings at the Society of Swiss Women Painters and Architects, at national exhibitions and on juries. She frequented the painters of Savièse: Édouard Vallet, Paul Virchaux, Hans Berger and Paul Mathey.
In 1938 they moved to the Geneva commune of Bernex. In 1957, they moved into a house for which Germaine had designed the plans. They had their workshop there. This house is now the headquarters of the Hainard Foundation.
They travelled a lot together to observe and draw nature, among other places in Bulgaria (1938, at the invitation of King Boris so that Robert could observe the bears), Lapland (1951, a trip on foot to paint the celestial lights at night) and Yugoslavia (1954), the Guadalquivir delta to see birds and lynxes (1969), Romania (to see bears, 1972), Iceland (with the Geneva Botanical Society, 1976), then also Africa (Uganda, Kenya, Tanzania to observe wildlife) and Asia (India, Nepal, 1977). During these trips, she painted many portraits and landscapes.
The Hainard couple regularly exhibited together, as they did at the Musée Rath in Geneva in 1935, but Germaine's work was also shown at the Swiss national art exhibitions in 1931, 1936, 1941 and 1946, and at the Kunsthaus in Zurich in 1940. In Geneva she won the Prix Calame (1934), the Prix Diday (1937) and the Prix Harvey (1941).
Her work is as powerful as her self-portraits. In oil or watercolour, she painted portraits, but above all views of the countryside or landscapes of nature restoring the complexity of the brushwood or the chromatic richness of water holes. Without any complacency, she tries to retranscribe the chromatic strength of the living world. Her style is influenced by the painter Hans Berger, with whom she exhibited, but with a strong feminine singularity that was rare in her time.
"Germaine is essentially a painter. Her paintings show her almost supernatural sensitivity to finding the right colour, the one that makes you feel the smell of the spring wind that melts the snow on the Jura, "this air that comes from afar" as she used to say. Robert and Germaine met in Geneva's art schools in the early 1920s and formed a couple so united that not even death could keep them apart." Pierre Hainard